| | | |
| --- | --- | --- |
| Welcome to the York House Society's website | | |
Introduction to the York House Society
The York House Society is Twickenham's oldest amenity society. It was formed in 1924 from the committee of councillors and local residents that was originally set up in 1922, to persuade the then Urban District Council to buy York House for conversion to a town hall. This was part of the campaign to secure the status of a borough for Twickenham. (See here for the history of the Society)
Now, the Grade II listed building is part of the headquarters of the London Borough of Richmond upon Thames. Parts of it are open on occasions, and can be rented for weddings and events. The York House Society continues to be active in the community, with special interests in central Twickenham, York House and its environs and the neighbouring Thames riverside. Lady Panufnik is the patron.
Programme of Activities
The Society meets regularly at York House, and carries on a range of activities throughout the year. Guests are welcome.
Friday 8 January, 7.30pm – Twelfth Night Dinner
Tickets from the Hon Treasurer, Bill Eadie.
Friday 19 February, 8.45am: York House Gardens tour
Meet by the statues
Friday 26 February, 8.00pm – Ordinary meeting in the Salon, plus AGM
Guest speaker: Rheme Fordham, Hearsum Collection, Deer in Richmond Park. Followed by the AGM.
Friday 18 March, 8.00pm: Ordinary Meeting in the Salon
Guest speakers: John Inglis & Jill Sanders, Panorama of the Thames project and the Leigh Panorama
Friday 1 April, 8.45am: York House Gardens tour
Meet by the statues
Friday 3 June, 8.00pm : York House Summer Reception in the Terrace Room
Friday 8 July, 8.00pm : Ordinary Meeting in the Salon
Guest speaker: Cllr Susan Chappell, on the changes to the council planning structure and consolidation with Wandsworth
Friday 15 July, 8.45am: York House Gardens tour
Meet by the statues
Friday 7 October, 8.00pm : Ordinary Meeting in the Salon
Guest speaker: Nigel Barker, Historic England
Friday 11 November, 8.00pm : Ordinary Meeting in the Salon
Guest speaker: Carole Patey OBE, of the Strawberry Hill Trust, on Strawberry Hill Restored: an exhibition for 2017 celebrating the tercentenary of Horace Walpole's birth
Friday 18 November, 8.45am: York House Gardens tour
Meet by the statues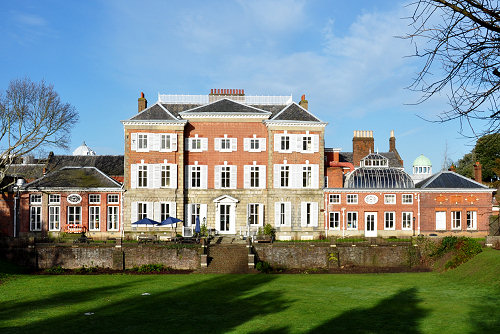 The back of the house, the terrace and the sunken garden. Photo ©Yvonne Hewett